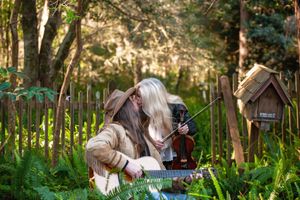 We met playing a gig for a mutual friend - a very "musical" way to meet.  We became friends.  We shared song ideas.  We didn't play together again for two years!  One day, while scrolling through Facebook, I saw a video of Dale playing a smoking guitar riff.  I thought, "Why aren't we playing together?"  So I asked him, "When are we going to jam?" He replied, "I don't want to just jam.  I want to form a band with you."
The thought was exhilarating - a band playing original music that Dale and I wrote/composed. We decided to make a start.   "Goodbye" was our first song. It was composed from the hot riff I had heard Dale play that day on Facebook.  We finished writing it in December of 2018, and the songs just kept on coming.  Turns out, we were each other's muse. It was an incredible journey of friendship turning into love as we worked together to realize our musical dream. 
We released our first acoustic album, "Home", on November 4, 2019.  With songs such as "Home", "Forever", and "Magic of Love" it was a love letter to each other. Love turned into marriage on Christmas Day, 2019.  We were wed on Pining Rock (mentioned in our song "Oklahoma") at the Lazy G, my Mom and Step-Dad's farm. We walked back up the aisle to "Magic of Love", and "Forever" was the song for our first dance.
Our second acoustic album, "Music:  A Love Story" was released in January 2021.While the first album had been a love letter to each other, the title track of this album was an ode to our mutual first love - music.  One of the songs was written about Dale's loving grandparents, another was about my courageous brother. The lyrics of "Pandora's Box" came from love letters Dale sent to me while I was on a trip to Paris. From carefree and happy to poignant and introspective, the songs on this album run the gamut of emotions. 
Dale and I spent the COVID shutdown of 2020 writing and playing music together. Due to the situation, we had to find new ways to share our music.  We turned to YouTube and Facebook videos.  We would often write a song and post a cellphone video of us performing it on the same day. Our friend, Gene, used his remarkable videography skills to shoot our "Sessions from the Purple Couch" and "Dollar's Two Cents".  We are grateful to have made it safely through those times. We took refuge and found solace in our music;  now we have a catalogue of over 65 original songs.
Together with Saylor Dollar band members David Marsh (percussion) and David Schrenk (bass), we released a full band album, "Relentless", this week. Some of the songs on this album are from our earlier days of writing together; and some, like "Relentless" and "Turquoise Ring", were written more recently.  We included an eclectic mix of styles using our signature sound. Kris Kolp, the wildly talented owner of Log Cabin Studios, recorded, engineered, mixed, and mastered this project.  He shared our vision for this album.  It was such a thrill to hear the sound we had imagined come to fruition. I'm so proud of my talented daughter who created the awesome album cover art. 
Thank you for taking the time to read our blog and listen to our music. Our music comes from our hearts and we are honored to be able to share it with you.  Eminent arts educator, Sir Ken Robinson, said, "An aesthetic experience is one in which your senses are operating at their peak; when you're present in the current moment; when you're resonating with the excitement of this thing that you're experiencing; when you are fully alive."  This is our wish for you:  that our music resonates with you and you have that "glad to be alive" feeling.  
Until next time,
Lisa Saylor Dollar